Reactive oxygen species in inflammation
Kelkka, Tiina (2013-04-26)
---
Reactive oxygen species in inflammation
(26.04.2013)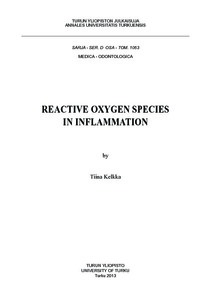 Annales Universitatis Turkuensis D 1063 Turun yliopisto
Julkaisun pysyvä osoite on:
https://urn.fi/URN:ISBN:978-951-29-5353-0
Kuvaus
Siirretty Doriasta
Tiivistelmä
Chronic inflammation is the underlying cause of many common disabling conditions such as rheumatoid arthritis (RA), multiple sclerosis, coeliac disease, type I diabetes and coronary artery disease. NOX2 complex derived reactive oxygen species (ROS) are known to regulate joint inflammation in rats and mice, and additionally recent genetic evidence associates phagocyte ROS and the development RA in humans. Ncf1mutated mice have lost the functionality of their NOX2 complex and thus have no phagocyte ROS production. These mice suffer from exacerbated arthritis. The immune suppressive effect of the NOX2 complex derived ROS is mediated by monocytes/macrophages that downregulate the activation of autoreactive T cells.

The aim of this thesis was to study how ROS modulate immune responses in different arthritis models and in tumor development. Additionally, genome wide gene expression profiling was carried out to assess the global effects of NOX2 complex derived ROS.

Firstly, these results confirmed the potent anti-inflammatory nature of phagocyte ROS in arthritis models that were driven by the adaptive immune system. Secondly, arthritis models with predominantly innate immunity induced pathophysiology were moderately enhanced by phagocyte, more specifically, neutrophil derived ROS. Thirdly, the ROS induced immune suppression mediated by the adaptive immune system allowed development of bigger implanted tumors, while phagocyte ROS production did not affect the development of spontaneously growing tumors.

Lastly, genome wide gene expression analysis revealed that both humans and mice with abrogated phagocyte NOX2 complex ROS production had an enhanced type I interferon signature in blood, reflecting their hyperinflammatory immune status.