Foot Health In Older People - Development of a preventive, evaluative instrument for nurses
Stolt, Minna (2013-05-03)
---
Foot Health In Older People - Development of a preventive, evaluative instrument for nurses
(03.05.2013)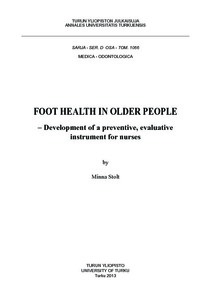 Annales Universitatis Turkuensis D 1066 Turun yliopisto
Julkaisun pysyvä osoite on:
https://urn.fi/URN:ISBN:978-951-29-5376-9
Kuvaus
Siirretty Doriasta
Tiivistelmä
Foot health is a part of overall health in every age group and its importance increases during ageing. Health care professionals are in a vital position for preventing foot health problems, and identifying and caring them in older people. Despite the rather high number of studies conducted in the field of foot health in older people, reliable and valid nurse-administered foot health assessment instruments seem to be lacking. By identifying foot health in older people, it is possible to develop nursing interventions to enhance safe, independent living at home. The purpose of this three-phase study was to develop an instrument to assess the level of foot health in older people and evaluate foot care practices from the perspective of older people themselves and nurses in home care. The ultimate goal is to prevent foot health problems by increasing the attention paid to older people's feet and recognizing those foot health problems which need further care; thus not focus on different foot health problems.

The study was conducted in different phases and contexts. In phase 1, a descriptive design with a literature review from the Medline (R) and CINAHL databases to explore foot health in older people and nurses' role in foot health care and pre-post design intervention study in nursing home with nursing staff (n=16) and older residents (n=43) were conducted. In phase 2, a descriptive and explorative study design was employed to develop an instrument for assessing foot health in older people (N=651, n=309, response rate 47%) and explore the psychometrics of the instrument. The data were collected from sheltered housing and home care settings. Finally, in phase 3, descriptive and explorative as well as cross-sectional correlational survey designs were used to assess foot health and evaluate the foot self-care activities of older people (N=651, n=309, response rate 47%) and to describe foot care knowledge and caring activities of nurses (N=651, n=322, response rate 50%) in home care in Finland. To achieve this, the Foot Health Assessment Instrument (FHAI) developed in phase 2 was used; at the same time, this large sample also was used for the psychometric evaluation of the FHAI. The data analysis methods used in this study were content analysis, descriptive and inferential statistics including factor and multivariate analysis.

Many long-term diseases can manifest in feet. Therefore, the FHAI, developed in this study consisted of items relating to skin and nail health, foot structure and foot pain. The FHAI demonstrated acceptable preliminary psychometric properties. A great deal of different foot health problems in older people were found of which edema, dry skin, thickened and discoloured toenails and hallux valgus were the most prevalent foot health problems. Moreover, many older people had difficulties in performing foot self-care. Nurses' knowledge of foot care was insufficient and revealed a need for more information and continuing education in matters relating to foot care in older people. Instead, nurses' foot care activities were mainly adequate, though the findings indicate the need for updating foot care activities to correspond with the evidence found in the field of foot care. Practical implications are presented for nursing practice, education and administration. In future, research should focus on developing interventions for older people and nurses to promote foot health in older people and to prevent foot health problems, as well as for further development of the FHAI.