Receptors and endocytosis of coxsackievirus A9
Heikkilä, Outi (2013-05-25)
---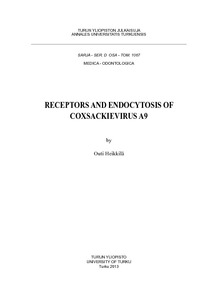 Annales Universitatis Turkuensis D 1067 Turun yliopisto
25.05.2013
Julkaisun pysyvä osoite on:
http://urn.fi/URN:ISBN:978-951-29-5378-3
Kuvaus
Siirretty Doriasta
Tiivistelmä
Coxsackievirus A9 (CV-A9) belongs to human enteroviruses within family Picornaviridae, which are the main cause of aseptic meningitis. In addition, CV-A9 causes a wide range of other clinical manifestations of acute disease including respiratory infections, myocarditis, encephalitis and severe generalized infections in newborns.

In this study, the functions of integrins αVβ6 and αVβ3 in the attachment and cellular entry of CV-A9 were analyzed. Further, virus and cell surface interactions and endocytosis of CV-A9 were studied in specific cell lines. Also, a method for production of GFP-expressing CV-A9 particles by long PCR-mediated mutagenesis and in vivo transcription was developed.

The results indicated that RGD-motif (arginine-glycine-asparagine) that resides in the viral capsid is important for CV-A9 infection particularly in cell lines expressing integrin αVβ6 and that this integrin serves as a high affinity attachment receptor for the virus. CV-A9 is also capable of infecting certain cell lines independently of αV-integrins by binding to the cell surface HSPA5 protein. Regardless of the attachment stage, the internalization of the virus occurs via the same entry pathway and is dependent on β2M, dynamin, and Arf6 but independent of clathrin and caveolin-1. Furthermore, the virus internalization occurs within Arf6-containing vesicles suggesting that Arf6 is central mediator of CV-A9 endocytosis. While in this study the results of CV-A9 endocytosis were based on microscopical visualization within individual fixed cells, a rapid method for generation of a virus for real-time imaging was also described.