Pain symptoms and sleep problems among school-aged children. Long-term prevalence changes, and pain symptoms as predictors of later mental health
Luntamo, Terhi (2013-05-24)
---
Pain symptoms and sleep problems among school-aged children. Long-term prevalence changes, and pain symptoms as predictors of later mental health
(24.05.2013)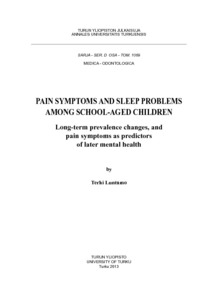 Annales Universitatis Turkuensis D 1069 Turun yliopisto
Julkaisun pysyvä osoite on:
https://urn.fi/URN:ISBN:978-951-29-5389-9
Kuvaus
Siirretty Doriasta
Tiivistelmä
Children's pain symptoms and sleep problems are among the most common health complaints. They distract children from activities, decrease the quality of life, contribute to a significant economic burden, and have shown continuity into adulthood. The main aims of this thesis were to investigate long-term changes in the prevalence of pain symptoms and sleep problems among Finnish school-aged children, and the later mental health of those who in childhood experience pain. Prevalence, co-occurrence, and associated psychosocial factors of pain symptoms and sleep problems were also assessed.

In study I, prevalence changes in eight-year-old children's pain symptoms and sleep problems were investigated in three cross-sectional population-based samples (years 1989: n=1038, 1999: n=1035, and 2005: n=1030). In study II, cross-sectional associations between pain symptoms, sleep problems, and psychosocial factors were assessed among 13-18-year-old adolescents (n=2476). In studies III and IV, associations between pain symptoms at age eight (n=6017), and register-based data on antidepressant use and severe suicidality by age 24, were examined in a nationwide birth cohort.

Pain symptoms and sleep problems were common and often co-occurred. A considerable number of children's pain symptoms remained unrecognized by the parents. The prevalence of pain symptoms, sleep problems, and multiple concurrent symptoms approximately doubled from 1989 to 2005. Psychiatric difficulties or demographic factors did not explain the increase. Psychosocial factors that were associated with pain, sleep problems, and a higher number of symptoms, were female sex, psychological difficulties, emotional symptoms, smoking, victimization, and feeling not cared about by teachers. In longitudinal analyses, the child's own report of headache, and to a smaller degree the parental report of the child's abdominal pain predicted later antidepressant use. Parental report of the child's abdominal pain predicted severe suicidality among males.

If one of the symptoms is present, health care professionals should inquire about other symptoms as well. Questions should be directed to the children, not only to their parents. Inquiring about psychiatric difficulties, substance use, victimization, and relations with teachers should be included as a part of the assessment. Further studies are needed to clarify the reasons that underlie the increased prevalence rates, and the factors that may increase or decrease the risk for later mental health problems among pain-suffering children.