The Role of an Oncoprotein CIP2A in Breast Cancer
Laine, Anni (2013-06-14)
---
The Role of an Oncoprotein CIP2A in Breast Cancer
(14.06.2013)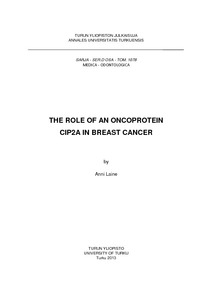 Annales Universitatis Turkuensis D 1078 Turun yliopisto
Julkaisun pysyvä osoite on:
https://urn.fi/URN:ISBN:978-951-29-5435-3
Kuvaus
Siirretty Doriasta
Tiivistelmä
Cancerous inhibitor of PP2A (CIP2A) is an oncoprotein expressed in several
human cancer types. Previously, CIP2A has been shown to promote
proliferation of cancer cells. Mechanistically, CIP2A is known to inhibit activity
of a tumor suppressor protein phosphatase 2A (PP2A) towards an oncoprotein
MYC, further stabilizing MYC in human cancer. However, the molecular
mechanisms how CIP2A expression is induced during cellular transformation
are not well known. Also, expression, functional role and clinical relevance of
CIP2A in breast cancer had not been studied before.

The results of this PhD thesis work demonstrate that CIP2A is highly
expressed in human breast cancer, and that high expression of CIP2A in
tumors is a poor prognostic factor in a subset of breast cancer patients. CIP2A
expression correlates with inactivating mutations of tumor suppressor p53 in
human cancer. Notably, we demonstrate that p53 inactivation up-regulates
CIP2A expression via increased expression of an oncogenic transcription
factor E2F1. Moreover, CIP2A promotes expression of E2F1, and this novel
positive feedback loop between E2F1 and CIP2A is demonstrated to regulate
sensitivity to both p53-dependent and -independent senescence induction in
breast cancer cells. Importantly, in a CIP2A deficient breast cancer mouse
model, abrogation of CIP2A attenuates mammary tumor formation and
progression with features of E2F1 inhibition and induction of senescence.
Furthermore, we demonstrate that CIP2A expression defines the cellular
response to a senescence-inducing chemotherapy in breast cancer. Taken
together, these results demonstrate that CIP2A is an essential promoter of
breast cancer tumor growth by inhibiting senescence. Finally, this study
implicates inhibition of CIP2A as a promising therapy target for breast cancer.