Magnetic Resocance Imaging Methods in the Follow-up of Multiple Sclerosis and in Farby Disease
Paavilainen, Teemu (2013-06-14)
---
Magnetic Resocance Imaging Methods in the Follow-up of Multiple Sclerosis and in Farby Disease
(14.06.2013)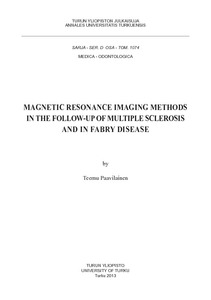 Annales Universitatis Turkuensis D 1074 Turun yliopisto
Julkaisun pysyvä osoite on:
https://urn.fi/URN:ISBN:978-951-29-5423-0
Kuvaus
Siirretty Doriasta
Tiivistelmä
Multiple sclerosis (MS) is a chronic immune-mediated inflammatory disorder of the central
nervous system. MS is the most common disabling central nervous system (CNS) disease
of young adults in the Western world. In Finland, the prevalence of MS ranges between
1/1000 and 2/1000 in different areas.

Fabry disease (FD) is a rare hereditary metabolic disease due to mutation in a single gene
coding α-galactosidase A (alpha-gal A) enzyme. It leads to multi-organ pathology, including
cerebrovascular disease. Currently there are 44 patients with diagnosed FD in Finland.
Magnetic resonance imaging (MRI) is commonly used in the diagnostics and follow-up of
these diseases. The disease activity can be demonstrated by occurrence of new or
Gadolinium (Gd)-enhancing lesions in routine studies. Diffusion-weighted imaging (DWI)
and diffusion tensor imaging (DTI) are advanced MR sequences which can reveal
pathologies in brain regions which appear normal on conventional MR images in several
CNS diseases.

The main focus in this study was to reveal whether whole brain apparent diffusion
coefficient (ADC) analysis can be used to demonstrate MS disease activity. MS patients
were investigated before and after delivery and before and after initiation of diseasemodifying
treatment (DMT). In FD, DTI was used to reveal possible microstructural
alterations at early timepoints when excessive signs of cerebrovascular disease are not yet
visible in conventional MR sequences.

Our clinical and MRI findings at 1.5T indicated that post-partum activation of the disease
is an early and common phenomenon amongst mothers with MS. MRI seems to be a more
sensitive method for assessing MS disease activity than the recording of relapses. However,
whole brain ADC histogram analysis is of limited value in the follow-up of inflammatory
conditions in a pregnancy-related setting because the pregnancy-related physiological
effects on ADC overwhelm the alterations in ADC associated with MS pathology in brain
tissue areas which appear normal on conventional MRI sequences.

DTI reveals signs of microstructural damage in brain white matter of FD patients before
excessive white matter lesion load can be observed on conventional MR scans. DTI could
offer a valuable tool for monitoring the possible effects of enzyme replacement therapy in
FD.