Integrins on the move
Arjonen, Antti (2013-06-14)
---
Integrins on the move
(14.06.2013)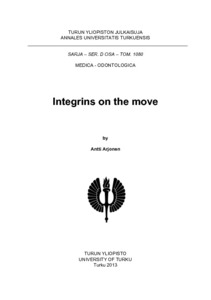 Annales Universitatis Turkuensis D 1080 Turun yliopisto
Julkaisun pysyvä osoite on:
https://urn.fi/URN:ISBN:978-951-29-5444-5
Kuvaus
Siirretty Doriasta
Tiivistelmä
Cancer is a leading cause of death worldwide accounting for 13% of all deaths
in 2005. The spread of cancer and formation of metastases is the major cause
of mortality among cancer patients.

The spread of cancer is based on the cancer cell's ability to break away
from the surrounding tissue and to migrate into new areas in the body. The
ability of cells to bind its surroundings and to move is controlled by the
mechanical cell surface adhesion receptors called the integrins. Integrins have
a critical role in cell adhesion, cell motility and tissue homeostasis. By
communicating with ECM, integrins transmit signals from the surrounding
environment inside the cell and modulate the function of many important
signalling pathways involved in cell survival, development, gene expression,
proliferation, motility and cytoskeletal organization.

During cell migration integrin-matrix adhesions are formed in front of
the cell while rear-adhesions are released during migration. Integrins are
endocytosed from the plasma-membrane into the cytoplasm and partly
recycled back to new adhesion sites in a process called integrin trafficking.

Also, the cell cytoskeleton and protrusions are important in cell
migration. Finger-like actin protrusions called filopodia display an interesting
cancer relevant cooperation with integrins that is required for cell migration.

The expression and function of integrins changes markedly as cells
acquire carcinogenic properties. Changed integrin function is partly responsible
for detachment of tumor cells from neighbouring cells and for providing
enhanced invasive capabilities for tumor cells to disseminate. Similarly, the
formation of filopodia is increased in cancer. High myosin-10 expression is
related to poor outcome in breast cancer and increased cell migration. The
proper function of myosin-10 induced filopodia needs association with β1
integrins.

The importance of integrin trafficking and filopodia formation is
becoming increasingly more recognized in cancer. This thesis focusses on the
role of integrins, integrin trafficking and myosin-10 induced filopodia cancer cell
migration.