Non-Markovian dynamics and quantum information probes
Haikka, Pinja (2013-06-14)
---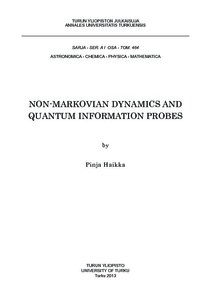 Turun yliopisto Annales Universitatis Turkuensis A I 464
14.06.2013
Julkaisun pysyvä osoite on:
http://urn.fi/URN:ISBN:978-951-29-5448-3
Kuvaus
Siirretty Doriasta
Tiivistelmä
This Thesis discusses the phenomenology of the dynamics of open quantum
systems marked by non-Markovian memory effects. Non-Markovian
open quantum systems are the focal point of a flurry of recent research
aiming to answer, e.g., the following questions: What is the characteristic
trait of non-Markovian dynamical processes that discriminates it from forgetful
Markovian dynamics? What is the microscopic origin of memory in
quantum dynamics, and how can it be controlled? Does the existence of
memory effects open new avenues and enable accomplishments that cannot
be achieved with Markovian processes? These questions are addressed in
the publications forming the core of this Thesis with case studies of both
prototypical and more exotic models of open quantum systems.

In the first part of the Thesis several ways of characterizing and quantifying
non-Markovian phenomena are introduced. Their differences are then
explored using a driven, dissipative qubit model. The second part of the
Thesis focuses on the dynamics of a purely dephasing qubit model, which
is used to unveil the origin of non-Markovianity for a wide class of dynamical
models. The emergence of memory is shown to be strongly intertwined
with the structure of the spectral density function, as further demonstrated
in a physical realization of the dephasing model using ultracold quantum
gases.

Finally, as an application of memory effects, it is shown that non-
Markovian dynamical processes facilitate a novel phenomenon of timeinvariant
discord, where the total quantum correlations of a system are
frozen to their initial value. Non-Markovianity can also be exploited in the
detection of phase transitions using quantum information probes, as shown
using the physically interesting models of the Ising chain in a transverse
field and a Coulomb chain undergoing a structural phase transition.