Regulation of self-renewal and detection of karyotypic changes of pluripotent human embryonic stem cells
Rahkonen, Nelly (2013-09-13)
---
Regulation of self-renewal and detection of karyotypic changes of pluripotent human embryonic stem cells
(13.09.2013)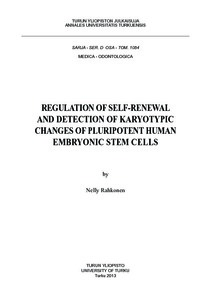 Annales Universitatis Turkuensis D 1084 Turun yliopisto
Julkaisun pysyvä osoite on:
https://urn.fi/URN:ISBN:978-951-29-5478-0
Kuvaus
Siirretty Doriasta
Tiivistelmä
Human embryonic stem cells are pluripotent cells capable of renewing themselves and differentiating to specialized cell types. Because of their unique regenerative potential, pluripotent cells offer new opportunities for disease modeling, development of regenerative therapies, and treating diseases. Before pluripotent cells can be used in any therapeutic applications, there are numerous challenges to overcome. For instance, the key regulators of pluripotency need to be clarified. In addition, long term culture of pluripotent cells is associated with the accumulation of karyotypic abnormalities, which is a concern regarding the safe use of the cells for therapeutic purposes.

The goal of the work presented in this thesis was to identify new factors involved in the maintenance of pluripotency, and to further characterize molecular mechanisms of selected candidate genes. Furthermore, we aimed to set up a new method for analyzing genomic integrity of pluripotent cells. The experimental design applied in this study involved a wide range of molecular biology, genome-wide, and computational techniques to study the pluripotency of stem cells and the functions of the target genes. In collaboration with instrument and reagent company Perkin Elmer, KaryoliteTM BoBsTM was implemented for detecting karyotypic changes of pluripotent cells.

Novel genes were identified that are highly and specifically expressed in hES cells. Of these genes, L1TD1 and POLR3G were chosen for further investigation. The results revealed that both of these factors are vital for the maintenance of pluripotency and self-renewal of the hESCs. KaryoliteTM BoBsTM was validated as a novel method to detect karyotypic abnormalities in pluripotent stem cells.

The results presented in this thesis offer significant new information on the regulatory networks associated with pluripotency. The results will facilitate in understanding developmental and cancer biology, as well as creating stem cell based applications. KaryoliteTM BoBsTM provides rapid, high-throughput, and cost-efficient tool for screening of human pluripotent cell cultures.