Same- and Other-Sex Victimization : Risk Factors, Consequences, and Protection by Peers
Sainio, Miia (2013-09-20)
---
Same- and Other-Sex Victimization : Risk Factors, Consequences, and Protection by Peers
(20.09.2013)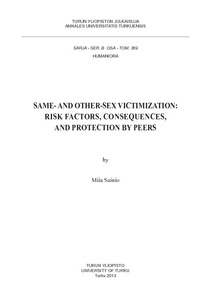 Turun yliopisto
Julkaisun pysyvä osoite on:
https://urn.fi/URN:ISBN:978-951-29-5502-2
Kuvaus
Siirretty Doriasta
Tiivistelmä
Bullying can be viewed as goal-oriented behavior in the strive for dominance and prestige in the peer group (Salmivalli, 2010). To ensure the effectiveness of their power demonstrations, bullies often choose targets from among their vulnerable peers (Salmivalli, 2010; Veenstra et al., 2007). A large number of studies have also shown that victimization has severe consequences for the victims' psychosocial adjustment (Reijntjes, Kamphuis, Prinzie, & Telch, 2010; Ttofi, Farrington, Lösel, & Loeber, 2011). In this thesis I investigate – based on three empirical studies – whether similar dynamics on the risk factors and consequences apply to same- and other-sex victimization.

In the empirical studies, we used the data from the randomized control trial of the KiVa antibullying program for the elementary school grades 4–6 (2007–2008), and for the middle school grades 7–9 (2008–2009). We measured same- and other-sex victimization, and victims' defending relationships by dyadic questions: "By which classmates are you victimized?" and "By which classmates are you supported, comforted, or defended?" In addition, we used self-reports and peer reports to measure adjustment and social status.

The findings imply that other-sex victimization may be challenging for antibullying work. First, although targets of bullying seemed to be selected from among vulnerable peers for the most part, perceived popularity increased the risks of other-sex victimization. Popularity of these victims may falsely lead to an impression that the victims are doing well. Second, the consequences considering victims' later psychosocial adjustment were alarming concerning girls bullied by boys. Thus, despite the fact that the targets may be perceived as popular, other-sex victimization can have even more severe consequences than same-sex victimization. Third, we found that defending relationships were mostly same-sex relationships, and consequently, we may ask whether defending is effective against other-sex bullies. Finally, the KiVa antibullying program was less effective against other-sex victimization in the adolescent sample. The findings altogether emphasize the importance of taking into account the sex composition of the bully-victim dyad, both considering future research on bullying and in the antibullying work with children and adolescents.