Two-dimensional atom localization and Raman cooling of tripod-type atoms
Ivanov, Vladimir (2013-09-20)
---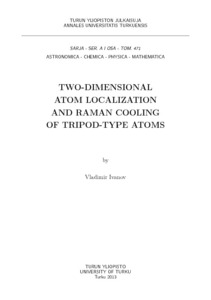 Turun yliopisto Annales Universitatis Turkuensis A I 471
20.09.2013
Julkaisun pysyvä osoite on:
http://urn.fi/URN:ISBN:978-951-29-5523-7
Kuvaus
Siirretty Doriasta
Tiivistelmä
Both atom localization and Raman cooling, considered in the thesis, reflect
recent progress in the area of all-optical methods. We focus on twodimensional
(2D) case, using a four-level tripod-type atomic scheme for
atom localization within the optical half-wavelength as well as for efficient
subrecoil Raman cooling.

In the first part, we discuss the principles of 1D atom localization, accompanying
by an example of the measurement of a spontaneously-emitted
photon. Modifying this example, one archives sub-wavelength localization
of a three-level -type atom, measuring the population in its upper state.
We go further and obtain 2D sub-wavelength localization for a four-level
tripod-type atom. The upper-state population is classified according to the
spatial distribution, which in turn forms such structures as spikes, craters
and waves.

The second part of the thesis is devoted to Raman cooling. The cooling
process is controlled by a sequence of velocity-selective transfers from one to
another ground state. So far, 1D deep subrecoil cooling has been carried out
with the sequence of square or Blackman pulses, applied to -type atoms.
In turn, we discuss the transfer of atoms by stimulated Raman adiabatic
passage (STIRAP), which provides robustness against the pulse duration
if the cooling time is not in any critical role. A tripod-type atomic scheme
is used for the purpose of 2D Raman cooling, allowing one to increase the
efficiency and simplify the realization of the cooling.