Circular Spectropolarimetric Studies of DQ White Dwarfs
Vornanen, Tommi (2013-09-28)
---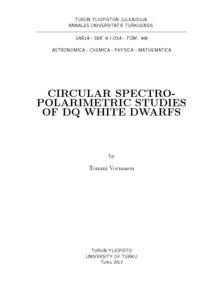 Turun yliopisto Annales Universitatis Turkuensis A I 468
28.09.2013
Julkaisun pysyvä osoite on:
http://urn.fi/URN:ISBN:978-951-29-5495-7
Kuvaus
Siirretty Doriasta
Tiivistelmä
This thesis summarizes studies of a class of white dwarfs (WDs) called DQ WDs. White dwarfs are the remnants of ordinary stars like our Sun that have run out of nuclear fuel. WDs are classified according to the composition of their atmosphere and DQ WDs have an atmosphere made of helium and carbon. The carbon comes in either atomic or molecular form and in some cases the strong spectral absorption features cover the entire optical wavelength region.

The research presented here utilizes spectropolarimetry, which is an observational technique that combines spectroscopy and polarization. Separately these allow to study the composition of a target and the inhomogeneous distribution of matter in the target. Put together they form a powerful tool to probe the physical properties in the atmosphere of a star. It is espacially good for detecting magnetic fields.

The papers in this thesis describe efforts to do a survey of DQ white dwarfs with spectropolarimetry in order to search for magnetic fields in them. Paper I describes the discovery of a new magnetic cool DQ white dwarf, GJ841B.

Initial modeling of molecular features on DQ WDs showed inconsistencies with observations. The first possible solution to this problem was stellar spots on these WDs. To investigate the matter, two DQ WDs were monitored for photometric variability that could arise from the presence of such spots. Paper II summarizes this short campaign and reports the negative results.

Paper III reports observations of the rest of the objects in our survey. The paper includes the discovery of polarization from another cool DQ white dwarf, bringing the total of known magnetic cool DQs to three. Unfortunately the model used in this thesis cannot, in its present state, be used to model these objects nor are the observations of high enough spectroscopic resolution to do so.