Multidata inverse problems and Bayesian solution methods in astronomy
Tuomi, Mikko (2013-10-12)
---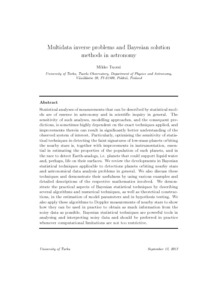 Turun yliopisto Annales Universitatis Turkuensis A I 470
12.10.2013
Julkaisun pysyvä osoite on:
http://urn.fi/URN:ISBN:978-951-29-5505-3
Kuvaus
Siirretty Doriasta
Tiivistelmä
Statistical analyses of measurements that can be described by statistical models are of essence in astronomy and in scientific inquiry in general. The sensitivity of such analyses, modelling approaches, and the consequent predictions, is sometimes highly dependent on the exact techniques applied, and improvements therein can result in significantly better understanding of the observed system of interest. Particularly, optimising the sensitivity of statistical techniques in detecting the faint signatures of low-mass planets orbiting the nearby stars is, together with improvements in instrumentation, essential in estimating the properties of the population of such planets, and in the race to detect Earth-analogs, i.e. planets that could support liquid water and, perhaps, life on their surfaces. We review the developments in Bayesian statistical techniques applicable to detections planets orbiting nearby stars and astronomical data analysis problems in general. We also discuss these techniques and demonstrate their usefulness by using various examples and detailed descriptions of the respective mathematics involved. We demonstrate the practical aspects of Bayesian statistical techniques by describing several algorithms and numerical techniques, as well as theoretical constructions, in the estimation of model parameters and in hypothesis testing. We also apply these algorithms to Doppler measurements of nearby stars to show how they can be used in practice to obtain as much information from the noisy data as possible. Bayesian statistical techniques are powerful tools in analysing and interpreting noisy data and should be preferred in practice whenever computational limitations are not too restrictive.