Regulation of lymphocyte response in vitro and in vivo
Kyläniemi, Minna (2013-10-04)
---
Regulation of lymphocyte response in vitro and in vivo
(04.10.2013)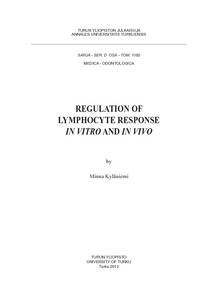 Annales Universitatis Turkuensis D 1085 Turun yliopisto
Julkaisun pysyvä osoite on:
https://urn.fi/URN:ISBN:978-951-29-5511-4
Kuvaus
Siirretty Doriasta
Tiivistelmä
CD4+ T helper (Th) cells have an important role in the defence against diverse pathogens. Th cells can differentiate into several functionally distinct subtypes including Th1 and Th2 cells. Th1 cells are important for eradicating intracellular pathogens, whereas Th2 cells pro¬tect our body against extracellular parasites. However if uncontrolled, Th cells can mediate immunopathology such as asthma or allergies, but inappropriate Th response can also lead to autoimmune diseases such as multiple sclerosis or type 1 diabetes. Deeper knowledge of the regulation of the lymphocyte response both in vitro and in vivo is important for un¬derstanding the pathogenesis of immune-mediated diseases and microbe-host interactions.

In the work presented in this thesis, the first goal was to elucidate the role of novel factors, PIM kinases and c-FLIP in the regulation of human Th cell differentiation. The oncogenic serine-threonine kinases of the PIM family were shown to be preferentially expressed in Th1 cells and in addition, by using RNA interference, they were also shown to be positive regulators of Th1 differentiation. The PIM depletion experiments suggest that PIM kinases promote the expression of the hallmark cytokine of Th1 cells, IFNγ, and influence the IL12/STAT4 pathway during the early Th1 cell differentiation.

In addition to cytokine and T cell receptor (TCR) induced pathways, caspase activity has been shown to regulate Th cell proliferation. In the work presented in this thesis, the two isoforms of the caspase regulator protein, c-FLIP, were shown to be differentially ex¬pressed in Th1 and Th2 cells. Both of the isoforms were up-regulated in response to TCR activation, but the expression of the short isoform was selectively induced by IL4, the Th2 inducing cytokine. Furthermore, the c-FLIP isoforms had distinct and opposite roles during the early differentiation of Th1 and Th2 cells. The knockdown of the long isoform of c-FLIP led to the induction of Th1 marker genes, such as IFNγ and TBET, whereas the depletion of c-FLIP short down-regulated Th2 marker genes IL-4 and GATA3.

The third goal was to elucidate the gene expression profiles characterizing the T- and B-lymphocyte responses in vivo during experimental infection by intracellular bacte¬rium Chlamydia pneumoniae. Previously, it has been shown that CD8+ and CD4+ T cells are important for the protection against Chlamydia pneumoniae. In this study, the analysis revealed up-regulation of interferon induced genes during recurrent infection underlining the importance of IFNγ secreted by Th1 and CD8+ T cells in the protection against this pathogen. Taken together, in this study novel regulators of Th cell differ¬entiation were discovered and in addition the gene expression profiles of lymphocytes induced by Chlamydia pneumoniae infection were characterized.