The genetics of behaviour and other adaptive traits in nine-spined sticklebacks (Pungitius pungitius)
Laine, Veronika (2013-10-11)
---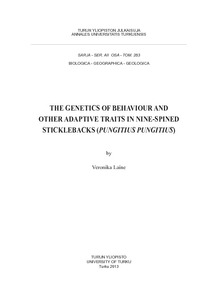 Turun yliopisto Annales Universitatis Turkuensis A II 283
11.10.2013
Julkaisun pysyvä osoite on:
http://urn.fi/URN:ISBN:978-951-29-5525-1
Kuvaus
Siirretty Doriasta
Tiivistelmä
One of the main goals in current evolutionary biology research is to identify genes behind adaptive phenotypic variations. The advances in genomic technologies have made it possible to identify genetic loci behind these variations, also concerning non-model species. This thesis investigates the genetics of the behaviour and other adaptive traits of the nine-spined stickleback (Pungitius pungitius) through the application of different genetic approaches. Fennoscandian nine-spined stickleback populations express large phenotypical differences especially in behaviour, life –history traits and morphology. However the underlying genetic bases for these phenotypical differences have not been studied in detail. The results of the project will lay the foundation for further genetics studies and provide valuable information for our understanding of the genetics of the adaptive divergence of the nine-spined stickleback.

A candidate gene approach was used to develop microsatellite markers situating close to candidate genes for behaviour in the nine-spined stickleback. Altogether 13 markers were developed and these markers were used in the subsequent studies with the anonymous random markers and physiologically important gene markers which are already currently available for nine-spined sticklebacks.

It was shown that heterozygosity correlated with behaviour in one of the marine nine-spined stickleback populations but with contrasting effects: correlations with behaviour were negative when using physiological gene markers and positive with random markers. No correlation was found between behavioural markers and behaviour. From the physiological gene markers, a strong correlation was found between osmoregulation-related gene markers and behaviour. These results indicate that both local (physiological) and general (random) effects are important in the shaping of behaviour and that heterozygosity– behaviour correlations are population dependent.

In this thesis a second linkage map for nine-spined sticklebacks was constructed. Compared to the earlier nine-spined stickleback linkage map, genomic rearrangements were observed between autosomal (LG7) and sex-determing (LG12) linkage groups. This newly constructed map was used in QTL mapping studies in order to locate genomic regions associated with pelvic structures, behaviour and body size/growth. One major QTL was found for pelvic structures and Pitx1 gene was related to these traits as was predicted from three-spined stickleback studies, but this was in contrast to earlier nine-spined stickleback study. The QTL studies also revealed that behaviour and body size/growth were genetically more complex by having more QTL than pelvic traits. However, in many cases, pelvic structure, body size/growth and behaviour were linked to similar map locations indicating possible pleiotropic effects of genes locating in these QTL regions. Many of the gene related markers resided in the QTL area. In the future, studying these possible candidate genes in depth might reveal the underlying mechanism behind the measured traits.