Beauty for Sale - An Empirical Study of Appearance-Related Consumption in Finland
Sarpila, Outi (2013-10-18)
---
Beauty for Sale - An Empirical Study of Appearance-Related Consumption in Finland
(18.10.2013)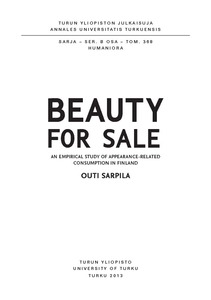 Turun yliopisto
Julkaisun pysyvä osoite on:
https://urn.fi/URN:ISBN:978-951-29-5486-5
Kuvaus
Siirretty Doriasta
Tiivistelmä
This study examines appearance-related consumption in Finland. The theoretical portion discusses appearance-related consumption, on one hand from a consumer culture perspective, as both a possibility and responsibility for everyone; and on the other hand, from the point of view of behaviour and attitudes associated with sociodemographic and lifestyle-related factors. The empirical part of the study concentrates on the following aspects: 1) Finns' appearance-related consumption patterns, attitudes towards appearance-related consumption and attending to one's looks through consumption, as well as general changes in consumption patterns and attitudes; 2) gender differences in attitudes and consumption patterns, and their possible changes over time, and; 3) other differences among population groups in attitudes and consumption patterns, and their possible changes over time. The following dissertation utilises data from seven different nationally representative surveys. Data include Finnish Household Budget surveys from 1998 (N=4 359), 2001 (N=5 495) and 2006 (N=4 007), as well as, The Everyday Life and Well-being Survey (N=908) collected in 2011, and Finland 1999 (N=2 417), Finland 2004 (N=3 574) and Finland 2009 (N=1 202) surveys. The study indicates that Finns' relationship to appearance-related consumption is, generally, somewhat inconsistent. In Finland, a significant share of a household's total spending, around the EU average, is allocated to products and services related to appearance. In addition, at an attitudinal level, physical appearance is important to most Finnish consumers. However, in many respects, these attitudes reflect a certain reservation towards appearance-related consumption practices. The number of those consumers who see themselves as truly dedicated to attending to their looks through consumption is quite small, whereas the amount of those willing to take a reserved or even negative attitude towards appearance-related consumption is clearly higher. Attitudes towards attending to one's looks and the importance of appearance-related consumption had not changed during the past decade. Study shows that at present, appearance-related consumption is a form of consumption that is particularly important to women, younger consumers, people with middle or higher income, and those with normal weight. Gender is in the key role when explaining appearance-related consumption and contrary to common belief, gender differences seem to have stayed quite stable. The results also indicate that, to some extent, differences between younger and older age groups might be diminishing.