Regulation of photosynthetic electron transfer in plant chloroplasts
Grieco, Michele (2013-10-25)
---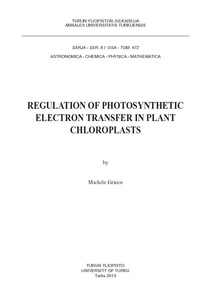 Turun yliopisto Annales Universitatis Turkuensis A I 472
25.10.2013
Julkaisun pysyvä osoite on:
http://urn.fi/URN:ISBN:978-951-29-5542-8
Kuvaus
Siirretty Doriasta
Tiivistelmä
This thesis focuses on the molecular mechanisms regulating the photosynthetic electron transfer reactions upon changes in light intensity. To investigate these mechanisms, I used mutants of the model plant Arabidopsis thaliana impaired in various aspects of regulation of the photosynthetic light reactions. These included mutants of photosystem II (PSII) and light harvesting complex II (LHCII) phosphorylation (stn7 and stn8), mutants of energy-dependent non-photochemical quenching (NPQ) (npq1 and npq4) and of regulation of photosynthetic electron transfer (pgr5). All of these processes have been extensively investigated during the past decades, mainly on plants growing under steady-state conditions, and therefore many aspects of acclimation processes may have been neglected. In this study, plants were grown under fluctuating light, i.e. the alternation of low and high intensities of light, in order to maximally challenge the photosynthetic regulatory mechanisms. In pgr5 and stn7 mutants, the growth in fluctuating light condition mainly damaged PSI while PSII was rather unaffected. It is shown that the PGR5 protein regulates the linear electron transfer: it is essential for the induction of transthylakoid ΔpH that, in turn, activates energy-dependent NPQ and downregulates the activity of cytochrome b6f. This regulation was shown to be essential for the photoprotection of PSI under fluctuations in light intensity. The stn7 mutants were able to acclimate under constant growth light conditions by modulating the PSII/PSI ratio, while under fluctuating growth light they failed in implementing this acclimation strategy. LHCII phosphorylation ensures the balance of the excitation energy distribution between PSII and PSI by increasing the probability for excitons to be trapped by PSI. LHCII can be phosphorylated over all of the thylakoid membrane (grana cores as well as stroma lamellae) and when phosphorylated it constitutes a common antenna for PSII and PSI. Moreover, LHCII was shown to work as a functional bridge that allows the energy transfer between PSII units in grana cores and between PSII and PSI centers in grana margins. Consequently, PSI can function as a quencher of excitation energy.

Eventually, the LHCII phosphorylation, NPQ and the photosynthetic control of linear electron transfer via cytochrome b6f work in concert to maintain the redox poise of the electron transfer chain. This is a prerequisite for successful plant growth upon changing natural light conditions, both in short- and long-term.