Adult education policy in the European Union during the Lisbon decade : the shift to vocational adult learning and work skills matching
Maniscalco, Rosario (2013-10-25)
---
Adult education policy in the European Union during the Lisbon decade : the shift to vocational adult learning and work skills matching
(25.10.2013)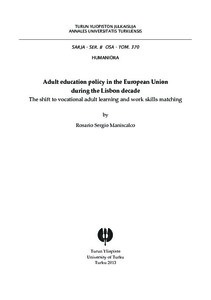 Turun yliopisto
Julkaisun pysyvä osoite on:
https://urn.fi/URN:ISBN:978-951-29-5507-7
Kuvaus
Siirretty Doriasta
Tiivistelmä
This doctoral dissertation investigates the adult education policy of the European Union (EU) in the framework of the Lisbon agenda 2000–2010, with a particular focus on the changes of policy orientation that occurred during this reference decade.

The year 2006 can be considered, in fact, a turning point for the EU policy-making in the adult learning sector: a radical shift from a wide--ranging and comprehensive conception of educating adults towards a vocationally oriented understanding of this field and policy area has been observed, in particular in the second half of the so--called 'Lisbon decade'. In this light, one of the principal objectives of the mainstream policy set by the Lisbon Strategy, that of fostering all forms of participation of adults in lifelong learning paths, appears to have muted its political background and vision in a very short period of time, reflecting an underlying polarisation and progressive transformation of European policy orientations. Hence, by means of content analysis and process tracing, it is shown that the new target of the EU adult education policy, in this framework, has shifted from citizens to workers, and the competence development model, borrowed from the corporate sector, has been established as the reference for the new policy road maps.

This study draws on the theory of governance architectures and applies a post-ontological perspective to discuss whether the above trends are intrinsically due to the nature of the Lisbon Strategy, which encompasses education policies, and to what extent supranational actors and phenomena such as globalisation influence the European governance and decision--making. Moreover, it is shown that the way in which the EU is shaping the upgrading of skills and competences of adult learners is modeled around the needs of the 'knowledge economy', thus according a great deal of importance to the 'new skills for new jobs' and perhaps not enough to life skills in its broader sense which include, for example, social and civic competences: these are actually often promoted but rarely implemented in depth in the EU policy documents.

In this framework, it is conveyed how different EU policy areas are intertwined and interrelated with global phenomena, and it is emphasised how far the building of the EU education systems should play a crucial role in the formation of critical thinking, civic competences and skills for a sustainable democratic citizenship, from which a truly cohesive and inclusive society fundamentally depend, and a model of environmental and cosmopolitan adult education is proposed in order to address the challenges of the new millennium. In conclusion, an appraisal of the EU's public policy, along with some personal thoughts on how progress might be pursued and actualised, is outlined.