Degenerative rotator cuff tear – Results and prognostic factors of arthroscopic repair
Kukkonen, Juha (2013-10-18)
---
Degenerative rotator cuff tear – Results and prognostic factors of arthroscopic repair
(18.10.2013)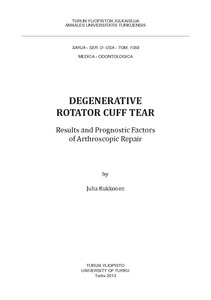 Annales Universitatis Turkuensis D 1088 Turun yliopisto
Julkaisun pysyvä osoite on:
https://urn.fi/URN:ISBN:978‐951‐29‐5527‐5
Kuvaus
Siirretty Doriasta
Tiivistelmä
Factors affecting outcome after arthroscopic rotator cuff repair are unclear and there is still insufficient evidence of efficacy of any treatment modality for rotator cuff tears. The purpose of the current study was to determine in a prospective randomized multicenter trial whether there is a difference in clinical outcome between three different treatment modalities in the treatment of degenerative, atraumatic supraspinatus tendon tear in elderly patients. 180 shoulders were randomized into three treatment groups: 1) physiotherapy, 2) arthroscopic acromioplasty and physiotherapy, 3) arthroscopic rotator cuff reconstruction, acromioplasty and physiotherapy. The objective of this study was also to evaluate retrospectively the effect of trauma, the size of the rotator cuff tear, smoking habits and glenohumeral osteoarthritis on the clinical treatment outcome after arthroscopic rotator cuff repair in a consecutively prospectively collected series of patients. The patient data was gathered to the electronic database. The Constant score was used as a primary outcome measure. The follow‐up time was one year.

The main finding was that operative treatment did not provide benefit over conservative regimen in elderly patients with atraumatic supraspinatus tear. Trauma did not affect on the clinical outcome and there was neither difference in the age of patients with traumatic vs. non‐traumatic rotator cuff tears. The size of the rotator cuff tear correlated significantly with the clinical results. The outcome was significantly poorer in tears with infraspinatus involvement compared to anterosuperior tears. Operatively treated rotator cuff tear patients who smoked were significantly younger than non‐smokers, and smoking was associated with poorer clinical outcome. Concomitant osteoarthritis of the glenohumeral joint was found to be a relatively common finding in supraspinatus tear patients. Osteoarthritis of the glenohumeral joint in operatively treated supraspinatus tear patients predicted poorer clinical results comparing to patients without osteoarthritis.