The Effects of Fibroblast Growth Factor 8b on Reproductive Organs and Prostate Tumorigenesis
Elo, Teresa (2013-11-22)
---
The Effects of Fibroblast Growth Factor 8b on Reproductive Organs and Prostate Tumorigenesis
(22.11.2013)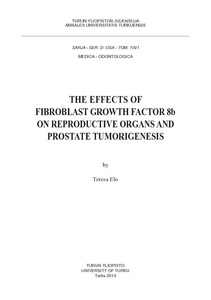 Annales Universitatis Turkuensis D 1091 Turun yliopisto
Julkaisun pysyvä osoite on:
https://urn.fi/URN:ISBN:978-951-29-5558-9
Kuvaus
Siirretty Doriasta
Tiivistelmä
Fibroblast growth factors (FGFs) are involved in the development and homeostasis of the prostate and other reproductive organs. FGF signaling is altered in prostate cancer. Fibroblast growth factor 8 (FGF8) is a mitogenic growth factor and its expression is elevated in prostate cancer and in premalignant prostatic intraepithelial neoplasia (PIN) lesions. FGF8b is the most transforming isoform of FGF8. Experimental models show that FGF8b promotes several phases of prostate tumorigenesis - including cancer initiation, tumor growth, angiogenesis, invasion and development of bone metastasis. The mechanisms activated by FGF8b in the prostate are unclear.

In the present study, to examine the tumorigenic effects of FGF8b on the prostate and other FGF8b expressing organs, an FGF8b transgenic (TG) mouse model was generated. The effect of estrogen receptor beta (ERβ) deficiency on FGF8binduced prostate tumorigenesis was studied by breeding FGF8b-TG mice with ERβ knockout mice (BERKOFVB).

Overexpression of FGF8b caused progressive histological and morphological changes in the prostate, epididymis and testis of FGF8b-TG-mice. In the prostate, hyperplastic, preneoplastic and neoplastic changes, including mouse PIN (mPIN) lesions, adenocarcinomas, sarcomas and carcinosarcomas were present in the epithelium and stroma. In the epididymis, a highly cancer-resistant tissue, the epithelium contained dysplasias and the stroma had neoplasias and hyperplasias with atypical cells. Besides similar histological changes in the prostate and epididymis, overexpression of FGF8b induced similar changes in the expression of genes such as osteopontin (Spp1), connective tissue growth factor (Ctgf) and FGF receptors (Fgfrs) in these two tissues. In the testes of the FGF8b-TG mice, the seminiferous epithelium was frequently degenerative and the number of spermatids was decreased. A portion of the FGF8b-TG male mice was infertile. Deficiency of ERβ did not accelerate prostate tumorigenesis in the FGF8b-TG mice, but increased significantly the frequency of mucinous metaplasia and slightly the frequency of inflammation in the prostate. This suggests putative differentiation promoting and anti-inflammatory roles for ERβ.

In summary, these results underscore the importance of FGF signaling in male reproductive organs and provide novel evidence for a role of FGF8b in stromal activation and prostate tumorigenesis.