Homogeneous assay technologies in drug screening: Quenching Resonance Energy Transfer (QRET) technique
Martikkala, Eija (2013-11-29)
---
Homogeneous assay technologies in drug screening: Quenching Resonance Energy Transfer (QRET) technique
(29.11.2013)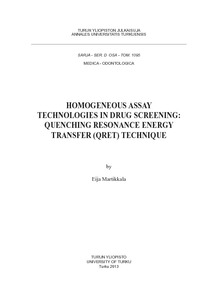 Annales Universitatis Turkuensis D 1095 Turun yliopisto
Julkaisun pysyvä osoite on:
https://urn.fi/URN:ISBN:978-951-29-5582-4
Kuvaus
Siirretty Doriasta
Tiivistelmä
Information gained from the human genome project and improvements in compound synthesizing have increased the number of both therapeutic targets and potential lead compounds. This has evolved a need for better screening techniques to have a capacity to screen number of compound libraries against increasing amount of targets. Radioactivity based assays have been traditionally used in drug screening but the fluorescence based assays have become more popular in high throughput screening (HTS) as they avoid safety and waste problems confronted with radioactivity. In comparison to conventional fluorescence more sensitive detection is obtained with time-resolved luminescence which has increased the popularity of time-resolved fluorescence resonance energy transfer (TR-FRET) based assays.

To simplify the current TR-FRET based assay concept the luminometric homogeneous single-label utilizing assay technique, Quenching Resonance Energy Transfer (QRET), was developed. The technique utilizes soluble quencher to quench non-specifically the signal of unbound fraction of lanthanide labeled ligand. One labeling procedure and fewer manipulation steps in the assay concept are saving resources. The QRET technique is suitable for both biochemical and cell-based assays as indicated in four studies:1) ligand screening study of β2 -adrenergic receptor (cell-based), 2) activation study of Gs-/Gi-protein coupled receptors by measuring intracellular concentration of cyclic adenosine monophosphate (cell-based), 3) activation study of G-protein coupled receptors by observing the binding of guanosine-5'-triphosphate (cell membranes), and 4) activation study of small GTP binding protein Ras (biochemical). Signal-to-background ratios were between 2.4 to 10 and coefficient of variation varied from 0.5 to 17% indicating their suitability to HTS use.