Acceleration of Solar Energetic Particles in coronal shocks through self-generated turbulence
Battarbee, Markus (2013-12-05)
---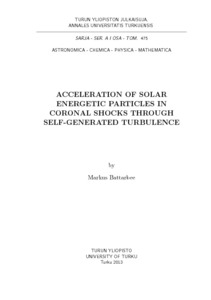 Turun yliopisto Annales Universitatis Turkuensis A I 475
05.12.2013
Julkaisun pysyvä osoite on:
http://urn.fi/URN:ISBN:978-951-29-5574-9
Kuvaus
Siirretty Doriasta
Tiivistelmä
The acceleration of solar energetic particles (SEPs) by flares and coronal mass ejections (CMEs) has been a major topic of research for the solar-terrestrial physics and geophysics communities for decades. This thesis discusses theories describing first-order Fermi acceleration of SEPs through repeated crossings at a CME-driven shock. We propose that particle trapping occurs through self-generated Alfvén waves, leading to a turbulent trapping region in front of the shock.

Decelerating coronal shocks are shown to be capable of efficient SEP acceleration, provided seed particle injection is sufficient. Quasi-parallel shocks are found to inject thermal particles with good efficiency.

The roles of minimum injection velocities, cross-field diffusion, downstream scattering efficiency and cross-shock potential are investigated in detail, with downstream isotropisation timescales having a major effect on injection efficiency.

Accelerated spectra of heavier elements up to iron are found to exhibit significantly harder spectra than protons. Accelerated spectra cut-off energies are found to scale proportional to (Q/A)1.5, which is explained through analysis of the spectral shape of amplified Alfvénic turbulence. Acceleration times to different threshold energies are found to be non-linear, indicating that self-consistent time-dependent simulations are required in order to expose the full extent of acceleration dynamics. The well-established quasilinear theory (QLT) of particle scattering is investigated by comparing QLT scattering coefficients with those found via full-orbit simulations. QLT is found to overemphasise resonance conditions. This finding supports the simplifications implemented in the presented coronal shock acceleration (CSA) simulation software.

The CSA software package is used to simulate a range of acceleration scenarios. The results are found to be in agreement with well-established particle acceleration theory. At the same time, new spatial and temporal dynamics of particle population trapping and wave evolution are revealed.