Switchable lanthanide fluorescence probes in homogenous molecular diagnostics
Lehmusvuori, Ari (2013-12-13)
---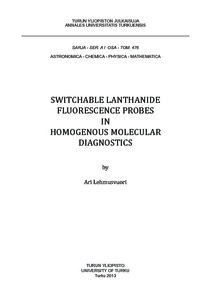 Turun yliopisto Annales Universitatis Turkuensis A I 476
13.12.2013
Julkaisun pysyvä osoite on:
http://urn.fi/URN:ISBN:978-951-29-5580-0
Kuvaus
Siirretty Doriasta
Tiivistelmä
The number of molecular diagnostic assays has increased tremendously in recent years.Nucleic acid diagnostic assays have been developed, especially for the detection of human pathogenic microbes and genetic markers predisposing to certain diseases. Closed-tube methods are preferred because they are usually faster and easier to perform than heterogenous methods and in addition, target nucleic acids are commonly amplified leading to risk of contamination of the following reactions by the amplification product if the reactions are opened.

The present study introduces a new closed-tube switchable complementation probes based PCR assay concept where two non-fluorescent probes form a fluorescent lanthanide chelate complex in the presence of the target DNA. In this dual-probe PCR assay method one oligonucleotide probe carries a non-fluorescent lanthanide chelate and another probe a light absorbing antenna ligand. The fluorescent lanthanide chelate complex is formed only when the non-fluorescent probes are hybridized to adjacent positions into the target DNA bringing the reporter moieties in close proximity. The complex is formed by self-assembled lanthanide chelate complementation where the antenna ligand is coordinated to the lanthanide ion captured in the chelate. The complementation probes based assays with time-resolved fluorescence measurement showed low background signal level and hence, relatively high nucleic acid detection sensitivity (low picomolar target concentration).

Different lanthanide chelate structures were explored and a new cyclic seven dentate lanthanide chelate was found suitable for complementation probe method. It was also found to resist relatively high PCR reaction temperatures, which was essential for the PCR assay applications. A seven-dentate chelate with two unoccupied coordination sites must be used instead of a more stable eight- or nine-dentate chelate because the antenna ligand needs to be coordinated to the free coordination sites of the lanthanide ion. The previously used linear seven-dentate lanthanide chelate was found to be unstable in PCR conditions and hence, the new cyclic chelate was needed.

The complementation probe PCR assay method showed high signal-to-background ratio up to 300 due to a low background fluorescence level and the results (threshold cycles) in real-time PCR were reached approximately 6 amplification cycles earlier compared to the commonly used FRET-based closed-tube PCR method. The suitability of the complementation probe method for different nucleic acid assay applications was studied. 1) A duplex complementation probe C. trachomatis PCR assay with a simple 10-minute urine sample preparation was developed to study suitability of the method for clinical diagnostics. The performance of the C. trachomatis assay was equal to the commercial C. trachomatis nucleic acid amplification assay containing more complex sample preparation based on DNA extraction. 2) A PCR assay for the detection of HLA-DQA1*05 allele, that is used to predict the risk of type 1 diabetes, was developed to study the performance of the method in genotyping. A simple blood sample preparation was used where the nucleic acids were released from dried blood sample punches using high temperature and alkaline reaction conditions. The complementation probe HLA-DQA1*05 PCR assay showed good genotyping performance correlating 100% with the routinely used heterogenous reference assay. 3) To study the suitability of the complementation probe method for direct measurement of the target organism, e.g., in the culture media, the complementation probes were applied to amplificationfree closed-tube bacteriophage quantification by measuring M13 bacteriophage ssDNA. A low picomolar bacteriophage concentration was detected in a rapid 20- minute assay. The assay provides a quick and reliable alternative to the commonly used and relatively unreliable UV-photometry and time-consuming culture based bacteriophage detection methods and indicates that the method could also be used for direct measurement of other micro-organisms.

The complementation probe PCR method has a low background signal level leading to a high signal-to-background ratio and relatively sensitive nucleic acid detection. The method is compatible with simple sample preparation and it was shown to tolerate residues of urine, blood, bacteria and bacterial culture media. The common trend in nucleic acid diagnostics is to create easy-to-use assays suitable for rapid near patient analysis. The complementation probe PCR assays with a brief sample preparation should be relatively easy to automate and hence, would allow the development of highperformance nucleic acid amplification assays with a short overall assay time.