Functional Genomic Approaches for Deciphering Plant-Virus Interactions
Jada, Balaji (2013-12-10)
---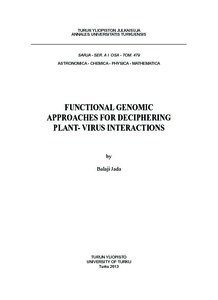 Turun yliopisto Annales Universitatis Turkuensis A I 479
10.12.2013
Julkaisun pysyvä osoite on:
http://urn.fi/URN:ISBN:978-951-29-5612-8
Kuvaus
Siirretty Doriasta
Tiivistelmä
Plant-virus interactions are very complex in nature and lead to disease and symptom formation by causing various physiological, metabolic and developmental changes in the host plants. These interactions are mainly the outcomes of viral hijacking of host components to complete their infection cycles and of host defensive responses to restrict the viral infections. Viral genomes contain only a small number of genes often encoding for multifunctional proteins, and all are essential in establishing a viral infection. Thus, it is important to understand the specific roles of individual viral genes and their contribution to the viral life cycles. Among the most important viral proteins are the suppressors of RNA silencing (VSRs). These proteins function to suppress host defenses mediated by RNA silencing and can also serve in other functions, e.g. in viral movement, transactivation of host genes, virus replication and protein processing. Thus these proteins are likely to have a significant impact on host physiology and metabolism. In the present study, I have examined the plant-virus interactions and the effects of three different VSRs on host physiology and gene expression levels by microarray analysis of transgenic plants that express these VSR genes. I also studied the gene expression changes related to the expression of the whole genome of Tobacco mosaic virus (TMV) in transgenic tobacco plants.

Expression of the VSR genes in the transgenic tobacco plants causes significant changes in the gene expression profiles. HC-Pro gene derived from the Potyvirus Y (PVY) causes alteration of 748 and 332 transcripts, AC2 gene derived from the African cassava mosaic virus (ACMV) causes alteration of 1118 and 251transcripts, and P25 gene derived from the Potyvirus X (PVX) causes alterations of 1355 and 64 transcripts in leaves and flowers, respectively. All three VSRs cause similar up-regulation in defense, hormonally regulated and different stress-related genes and down-regulation in the photosynthesis and starch metabolism related genes. They also induce alterations that are specific to each viral VSR. The phenotype and transcriptome alterations of the HC-Pro expressing transgenic plants are similar to those observed in some Potyvirus-infected plants. The plants show increased protein degradation, which may be due to the HC-Pro cysteine endopeptidase and thioredoxin activities. The AC2-expressing transgenic plants show a similar phenotype and gene expression pattern as HC-Pro-expressing plants, but also alter pathways related to jasmonic acid, ethylene and retrograde signaling. In the P25 expressing transgenic plants, high numbers of genes (total of 1355) were up-regulated in the leaves, compared to a very low number of down-regulated genes (total of 5). Despite of strong induction of the transcripts, only mild growth reduction and no other distinct phenotype was observed in these plants.

As an example of whole virus interactions with its host, I also studied gene expression changes caused by Tobacco mosaic virus (TMV) in tobacco host in three different conditions, i.e. in transgenic plants that are first resistant to the virus, and then become susceptible to it and in wild type plants naturally infected with this virus. The microarray analysis revealed up and down-regulation of 1362 and 1422 transcripts in the TMV resistant young transgenic plants, and up and down-regulation of a total of 1150 and 1200 transcripts, respectively, in the older plants, after the resistance break. Natural TMV infections in wild type plants caused up-regulation of 550 transcripts and down-regulation of 480 transcripts. 124 up-regulated and 29 down-regulated transcripts were commonly altered between young and old TMV transgenic plants, and only 6 up-regulated and none of the down-regulated transcripts were commonly altered in all three plants. During the resistant stage, the strong down-regulation in translation-related transcripts (total of 750 genes) was observed. Additionally, transcripts related to the hormones, protein degradation and defense pathways, cell division and stress were distinctly altered. All these alterations may contribute to the TMV resistance in the young transgenic plants, and the resistance may also be related to RNA silencing, despite of the low viral abundance and lack of viral siRNAs or TMV methylation activity in the plants.