Phenolics of the Inner Bark of Silver Birch: Characterization and Intraspecific Variation
Liimatainen, Jaana (2013-12-13)
---
Phenolics of the Inner Bark of Silver Birch: Characterization and Intraspecific Variation
(13.12.2013)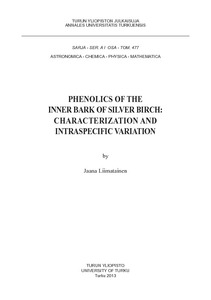 Turun yliopisto Annales Universitatis Turkuensis A I 477
Julkaisun pysyvä osoite on:
https://urn.fi/URN:ISBN:978-951-29-5590-9
Kuvaus
Siirretty Doriasta
Tiivistelmä
This thesis describes work related to the in-depth characterization of the phenolic compounds of silver birch (Betula pendula) inner bark. Phenolic compounds are the most ubiquitous class of plant secondary compounds. The unifying feature of this structurally diverse group is an aromatic ring containing at least one hydroxyl group. Due to the structural diversity, phenolics have various roles in the plant defense against biotic and abiotic stresses. In addition, they can confer several health-promoting properties to humans. Furthermore, the structural diversity of this class of compounds causes challenges for their analysis. The study species in the present work, silver birch, is economically the most important hard wood species in northern Europe. Its inner bark contains a high level of phenolic compounds and it has shown one of the strongest antioxidant activities among 92 Finnish plant materials.

The literature review surveys the diversity and organ specific distribution of phenolic compounds in silver birch as well as the proposed ecological functions of phenolic compounds in nature. In addition, the basis for the characterization of phenolics by mass spectrometry (MS), nuclear magnetic resonance spectroscopy (NMR), and circular dichroism spectroscopy (CD) are reviewed.

The objective of the experimental work was to extract, purify, characterize, and quantify the inner bark phenolic compounds. Overall 36 compounds were characterized by MS and ultraviolet spectroscopy (UV). 24 compounds were isolated and their structures confirmed by NMR and CD spectroscopy. Five novel natural compounds were identified. Special emphasis was placed on the establishment of a method for the characterization of proanthocyanidins (PAs). Hydrophilic interaction liquid chromatography (HILIC) was utilized because of its high resolution power and predictable elution order of oligomeric and polymeric PAs according to an increasing degree of polymerization. The combination of HILIC and high-resolution MS detection allowed the identification of procyanidin (PC) polymers up to the degree of polymerization of 22. In addition, a series of oligomeric and polymeric PC monoxylosides were observed for the first time in nature.

Season and genotype influenced the quantities of the main inner bark phenolics, yet qualitative differences were not observed. However, manual wounding of the inner bark induced the production of ellagitannins (ETs) in the wounded tissues, i.e. callus. Since ETs were not detected in the intact inner bark, this finding may reflect the capacity of silver birch to exploit ellagitannins in its defense.