Design Space Exploration for MPSoC Architectures
Latif, Khalid (2013-12-20)
---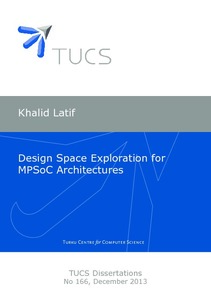 Turku Centre for Computer Science
20.12.2013
Julkaisun pysyvä osoite on:
http://urn.fi/URN:ISBN:978-952-12-2976-3
Kuvaus
Siirretty Doriasta
Tiivistelmä
Multiprocessor system-on-chip (MPSoC) designs utilize the available technology and communication architectures to meet the requirements of the upcoming applications. In MPSoC, the communication platform is both the key enabler, as well as the key differentiator for realizing efficient MPSoCs. It provides product differentiation to meet a diverse, multi-dimensional set of design constraints, including performance, power, energy, reconfigurability, scalability, cost, reliability and time-to-market. The communication resources of a single interconnection platform cannot be fully utilized by all kind of applications, such as the availability of higher communication bandwidth for computation but not data intensive applications is often unfeasible in the practical implementation.

This thesis aims to perform the architecture-level design space exploration towards efficient and scalable resource utilization for MPSoC communication architecture. In order to meet the performance requirements within the design constraints, careful selection of MPSoC communication platform, resource aware partitioning and mapping of the application play important role. To enhance the utilization of communication resources, variety of techniques such as resource sharing, multicast to avoid re-transmission of identical data, and adaptive routing can be used. For implementation, these techniques should be customized according to the platform architecture. To address the resource utilization of MPSoC communication platforms, variety of architectures with different design parameters and performance levels, namely Segmented bus (SegBus), Network-on-Chip (NoC) and Three-Dimensional NoC (3D-NoC), are selected. Average packet latency and power consumption are the evaluation parameters for the proposed techniques.

In conventional computing architectures, fault on a component makes the connected fault-free components inoperative. Resource sharing approach can utilize the fault-free components to retain the system performance by reducing the impact of faults. Design space exploration also guides to narrow down the selection of MPSoC architecture, which can meet the performance requirements with design constraints.