Detection of Illicit Drugs and Drug Precursors with Cantilever-Enhanced Photoacoustic Spectroscopy
Lehtinen, Jaakko (2014-01-18)
---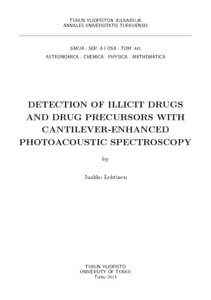 Turun yliopisto Annales Universitatis Turkuensis A I 481
18.01.2014
Julkaisun pysyvä osoite on:
http://urn.fi/URN:ISBN:978-951-29-5631-9
Kuvaus
Siirretty Doriasta
Tiivistelmä
In this study, cantilever-enhanced photoacoustic spectroscopy (CEPAS) was applied in different drug detection schemes. The study was divided into two different applications: trace detection of vaporized drugs and drug precursors in the gas-phase, and detection of cocaine abuse in hair. The main focus, however, was the study of hair samples. In the gas-phase, methyl benzoate, a hydrolysis product of cocaine hydrochloride, and benzyl methyl ketone (BMK), a precursor of amphetamine and methamphetamine were investigated. In the solid-phase, hair samples from cocaine overdose patients were measured and compared to a drug-free reference group. As hair consists mostly of long fibrous proteins generally called keratin, proteins from fingernails and saliva were also studied for comparison.

Different measurement setups were applied in this study. Gas measurements were carried out using quantum cascade lasers (QLC) as a source in the photoacoustic detection. Also, an external cavity (EC) design was used for a broader tuning range. Detection limits of 3.4 particles per billion (ppb) for methyl benzoate and 26 ppb for BMK in 0.9 s were achieved with the EC-QCL PAS setup. The achieved detection limits are sufficient for realistic drug detection applications.

The measurements from drug overdose patients were carried out using Fourier transform infrared (FTIR) PAS. The drug-containing hair samples and drug-free samples were both measured with the FTIR-PAS setup, and the measured spectra were analyzed statistically with principal component analysis (PCA). The two groups were separated by their spectra with PCA and proper spectral pre-processing. To improve the method, ECQCL measurements of the hair samples, and studies using photoacoustic microsampling techniques, were performed. High quality, high-resolution spectra with a broad tuning range were recorded from a single hair fiber. This broad tuning range of an EC-QCL has not previously been used in the photoacoustic spectroscopy of solids. However, no drug detection studies were performed with the EC-QCL solid-phase setup.