Seasonal variation in migratory body condition, corticosterone secretion, oxidative stress and biotransformation activity in barn swallows (Hirundo rustica L.)
Raja-aho, Sari (2014-05-08)
---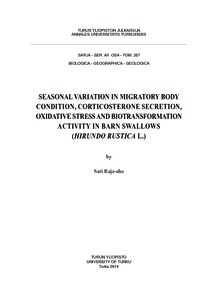 Turun yliopisto Annales Universitatis Turkuensis A II 287
08.05.2014
Julkaisun pysyvä osoite on:
http://urn.fi/URN:ISBN:978-951-29-5700-2
Kuvaus
Siirretty Doriasta
Tiivistelmä
I studied the associations between migration-related physiological regulation (corticosterone)
and body condition of barn swallows (Hirundo rustica L.). An additional purpose was to
determine whether oxidative stress and biotransformation activity vary seasonally. Since
physiological regulation, biotransformation activity and the stress involved may be important
factors for body condition during migration; they may have direct effects on migration success.
This in turn may influence other important life history stages, such as breeding and moult. In
the thesis I used barn swallow data of the Finnish Ringing Centre (1997–2009), consisting of
all juveniles ringed in the nests and recaptured from night roosts later the same autumn. Before
the autumn migration in Finland I also captured, ringed and sampled barn swallows from night
roosts in 2003, 2006, 2007 and 2011. Samples preceding spring migration in South Africa were
collected in 2007.

Juvenile barn swallows started to migrate southward in mid-August (first broods). Second
broods started their migration at a younger age and almost a month later than first broods
(mid-September). Barn swallows increased body mass and accumulated fat for the autumn
migration. In the course of the autumn they seemed to be able to prevent the loss of energy
already accumulated, since the proportional overnight mass loss, fat loss and faecal production
decreased. Surprisingly, corticosterone, the major energy-regulating hormone in birds,
seemed not to be involved in the fuelling process. Previous studies with warblers, sparrows
and shorebirds had shown that during migration, the baseline levels of corticosterone were
elevated in order to facilitate fuelling. It is possible that for Finnish barn swallows the most
important fuelling place is in southern Europe, since northern and eastern populations
migrate via the Balkan Peninsula. However, the adrenocortical stress response of Finnish
barn swallows in good body condition was lower than that of those in poor body condition.
Birds clearly suppressed the response, probably to prevent the catabolic effects of excessive
corticosterone levels; birds cannot afford to lose muscle mass before migration.

South African barn swallows had high levels of baseline corticosterone, but this may
have been associated with the high oxidative damage and biotransformation activity of
those birds. Barn swallows in spring and summer had low biotransformation activity and
intermediate oxidative stress, which was probably related to breeding. Autumn birds had
low biotransformation activity and oxidative stress but high redox enzyme activities in some
migration-related enzymes.