School Bullies' Quest for Power: Implications for Group Dynamics and Intervention
Garandeau, Claire F. (2014-05-16)
---
School Bullies' Quest for Power: Implications for Group Dynamics and Intervention
(16.05.2014)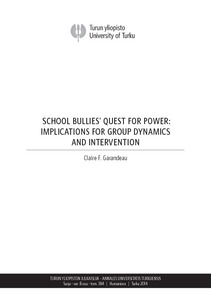 Turun yliopisto
Julkaisun pysyvä osoite on:
https://urn.fi/URN:ISBN:978-951-29-5727-9
Kuvaus
Siirretty Doriasta
Tiivistelmä
Bullying is characterized by an inequality of power between perpetrator and target. Findings that bullies can be highly popular have helped redefine the old conception of the maladjusted school bully into a powerful individual exerting influence on his peers from the top of the peer status hierarchy. Study I is a conceptual paper that explores the conditions under which a skillful, socially powerful bully can use the peer group as a means of aggression and suggests that low cohesion and low quality of friendships make groups easier to manipulate. School bullies' high popularity should be a major obstacle for antibullying efforts, as bullies are unlikely to cease negative actions that are rewarding, and their powerful position could discourage bystanders from interfering. Using data from the Finnish program KiVa, Study II supported the hypothesis that antibullying interventions are less effective with popular bullies in comparison to their unpopular counterparts. In order to design interventions that can address the positive link between popularity and aggression, it is necessary to determine in which contexts bullies achieve higher status. Using an American sample, Study III examined the effects of five classroom features on the social status that peers accord to aggressive children, including classroom status hierarchy, academic level and grade level, controlling for classroom mean levels of aggression and ethnic distribution. Aggressive children were more popular and better liked in fifth grade relative to fourth grade and in classrooms of higher status hierarchy. Surprisingly, the natural emergence of status hierarchies in children's peer groups has long been assumed to minimize aggression. Whether status hierarchies hinder or promote bullying is a controversial question in the peer relations' literature. Study IV aimed at clarifying this debate by testing the effects of the degree of classroom status hierarchy on bullying. Higher hierarchy was concrrently associated with bullying and predictive of higher bullying six months later. As bullies' quest for power is increasingly acknowledged, some researchers suggest teaching bullies to attain the elevated status they yearn for through prosocial acts. Study V cautions against such solutions by reviewing evidence that prosocial behaviors enacted with the intention of controlling others can be as harmful as aggression.