Vesicular Trafficking in Osteoclasts
Hirvonen, Mirkka (2014-05-16)
---
Vesicular Trafficking in Osteoclasts
(16.05.2014)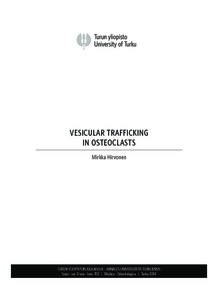 Annales Universitatis Turkuensis D 1112 Turun yliopisto
Julkaisun pysyvä osoite on:
https://urn.fi/URN:ISBN:978-951-29-5723-1
Kuvaus
Siirretty Doriasta
Tiivistelmä
Osteoclasts are multinucleated bone-degrading cells that undergo large changes in their polarisation and vesicular trafficking during the bone resorption cycle. Rab proteins are small GTPases that offer both temporal and spatial regulation to the transport between membranous organelles. Previously the presence and function of only few of the currently known 60 Rab proteins in osteoclasts have been reported. In this study, the expression of 26 Rab genes in bone-resorbing osteoclasts was demonstrated with gene-specific primer pairs. The further analysis of three Rab genes during human osteoclast differentiation revealed that Rab13 gene is highly induced during osteoclastogenesis. The presence of Rab13 protein in the secretory vesicles directed towards the ruffled border and in the endocytotic or transcytotic pathways in resorbing osteoclasts was excluded. The localisation of Rab13 suggests that that it is associated with a previously unknown vesicle population travelling between the trans-Golgi network and the basolateral membrane in bone resorbing osteoclasts.

Rab proteins convey their functions by binding to specific effector proteins. We found a novel Rab13 interaction with endospanins-1 and -2 that are yet poorly characterised small transmembrane proteins. The Rab13 subfamily member Rab8 also bound to endospanins, while Rab10 and unrelated Rabs did not. Rab13 and endospanin-2 co-localised in perinuclear vesicles in transfected cells, demonstrating the interaction also in vivo. The inhibition of Rab13 did not interfere with the localisation of endospanin-2 nor did it affect the cell surface expression of growth hormone receptor, as has been previously described for endospanins. The physiological role of this novel protein-protein interaction thus remains to be clarified.

The analysis of the transcytotic route in bone resorbing osteoclasts revealed that multiple vesicle populations arise from the ruffled border and transport the bone degradation products for exocytosis. These vesicles are directed to the functional secretory domain that is encircled by an actin-based molecular barrier. Furthermore, the transcytotic vesicles contain abundant Helix pomatia lectin binding sites and represent lipid raft concentrates. Finally, autophagosomal compartments may also be involved in the transcytosis.