Thermal-Aware Networked Many-Core Systems
Vaddina, Kameswar Rao (2014-05-23)
---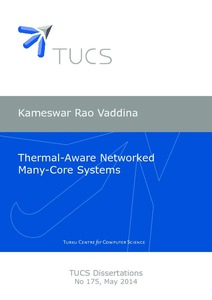 Turku Centre for Computer Science
23.05.2014
Julkaisun pysyvä osoite on:
http://urn.fi/URN:ISBN:978-952-12-3063-9
Kuvaus
Siirretty Doriasta
Tiivistelmä
Advancements in IC processing technology has led to the innovation and growth happening in the consumer electronics sector and the evolution of the IT infrastructure supporting this exponential growth. One of the most difficult obstacles to this growth is the removal of large amount of heatgenerated by the processing and communicating nodes on the system. The scaling down of technology and the increase in power density is posing a direct and consequential effect on the rise in temperature. This has resulted in the increase in cooling budgets, and affects both the life-time reliability and performance of the system. Hence, reducing on-chip temperatures has become a major design concern for modern microprocessors.


This dissertation addresses the thermal challenges at different levels for both 2D planer and 3D stacked systems. It proposes a self-timed thermal monitoring strategy based on the liberal use of on-chip thermal sensors. This makes use of noise variation tolerant and leakage current based thermal sensing for monitoring purposes. In order to study thermal management issues from early design stages, accurate thermal modeling and analysis at design time is essential. In this regard, spatial temperature profile of the global Cu nanowire for on-chip interconnects has been analyzed. It presents a 3D thermal model of a multicore system in order to investigate the effects of hotspots and the placement of silicon die layers, on the thermal performance of a modern ip-chip package. For a 3D stacked system, the primary design goal is to maximise the performance within the given power and thermal envelopes. Hence, a thermally efficient routing strategy for 3D NoC-Bus hybrid architectures has been proposed to mitigate on-chip temperatures by herding most of the switching activity to the die which is closer to heat sink. Finally, an exploration of various thermal-aware placement approaches for both the 2D and 3D stacked systems has been presented. Various thermal models have been developed and thermal control metrics have been extracted. An efficient thermal-aware application mapping algorithm for a 2D NoC has been presented. It has been shown that the proposed mapping algorithm reduces the effective area reeling under high temperatures when compared to the state of the art.