Epidemiology, management and outcome of facial injuries
Perheentupa, Ulla (2014-06-06)
---
Epidemiology, management and outcome of facial injuries
(06.06.2014)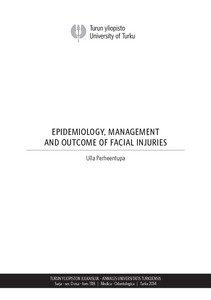 Annales Universitatis Turkuensis D 1118 Turun yliopisto
Julkaisun pysyvä osoite on:
https://urn.fi/URN:ISBN:978-951-29-5760-6
Kuvaus
Siirretty Doriasta
Tiivistelmä
Dental injuries are common and the incidence of maxillofacial injuries has increased over the recent decades in Finland. Accidental injuries are the global leading cause of death among children over the age of one year and among adults under the age of 40 globally. Significant resources and costs are needed for the treatment of these patients. The prevention is the most economical way to reduce trauma rates and costs. For the prevention it is crucial to know the prevalences, incidences and risk factors related to injuries. To improve the quality of treatment, it is essential to explore the causes, trauma mechanisms and management of trauma. The above mentioned was the aim of this thesis.

With a large epidemiological cohort study (5737 participants) it was possible to estimate lifetime prevalence of and risk factors for dental trauma in general population (Study I). The prevalence of dental fractures was 43% and the prevalence of dental luxations and avulsions was 14%. Male gender, a history of previous non-dental injuries, mental distress, overweight and high alcohol consumption were positively associated with the occurrence of dental injuries Study II was conducted to explore the differences in type and multiplicity of mandibular fractures in three different countries (Canada, Finland and Kuwait). This retrospective study showed that the differences in mandibular fracture multiplicity and location are based on different etiologies and demographic patterns. This data can be exploited for planning of measures to prevent traumatic facial fractures. The etiology, management and outcome of 63 pediatric skull base fracture (Study III) and 20 pediatric frontobasal fracture patients (Study IV) were explored. These retrospective studies showed that, both skull base fracture and frontobasa fracture are rare injuries in childhood and although intracranial injuries and morbidity are frequent, permanent neurological or neuropsychological deficits are infrequent. A systematic algorithm (Study V) for computer tomography (CT) image review was aimed at clinicians and radiologists to improve the assessment of patients with complex upper midface and cranial base trauma. The cohort study was cross sectional and data was collected in the Turku and Oulu University Hospitals. A novel image-reviewing algorithm was created to enhance the specificity of CT for the diagnosis of frontobasal fractures. The study showed that an image-viewing algorithm standardizes the frontobasal trauma detection procedure and leads to better control and assessment. The purpose of the retrospective subcranial craniotomy study (VI) was to review the types of frontobasal fractures and their management, complications and outcome when the fracture is approached subcranially. The subcranial approach appears to be successful and have a reasonably low complication rate. It may be recommended as the technique of choice in multiple and the most complicated frontal base fractures where the endoscopic endonasal approach is not feasible.