Alterations in The States and Contents of Consciousness: Empirical and Theoretical Aspects
Noreika, Valdas (2014-10-03)
---
Alterations in The States and Contents of Consciousness: Empirical and Theoretical Aspects
(03.10.2014)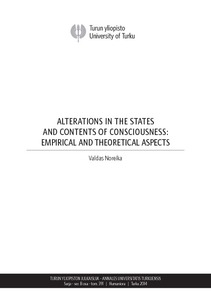 Turun yliopisto
Julkaisun pysyvä osoite on:
https://urn.fi/URN:ISBN:978-951-29-5866-5
Kuvaus
Siirretty Doriasta
Tiivistelmä
The main purpose of the present doctoral thesis is to investigate subjective experiences and cognitive processes in four different types of altered states of consciousness: naturally occurring dreaming, cognitively induced hypnosis, pharmacologically induced sedation, and pathological psychosis. Both empirical and theoretical research is carried out, resulting in four empirical and four theoretical studies. The thesis begins with a review of the main concepts used in consciousness research, the most influential philosophical and neurobiological theories of subjective experience, the classification of altered states of consciousness, and the main empirical methods used to study consciousness alterations. Next, findings of the original studies are discussed, as follows. Phenomenal consciousness is found to be dissociable from responsiveness, as subjective experiences do occur in unresponsive states, including anaesthetic-induced sedation and natural sleep, as demonstrated by post-awakening subjective reports. Two new tools for the content analysis of subjective experiences and dreams are presented, focusing on the diversity, complexity and dynamics of phenomenal consciousness. In addition, a new experimental paradigm of serial awakenings from non-rapid eye movement sleep is introduced, which enables more rapid sampling of dream reports than has been available in previous studies. It is also suggested that lucid dreaming can be studied using transcranial brain stimulation techniques and systematic analysis of pre-lucid dreaming. For blind judges, dreams of psychotic patients appear to be indistinguishable from waking mentation reports collected from the same patients, which indicates a close resemblance of these states of mind. However, despite phenomenological similarities, dreaming should not be treated as a uniform research model of psychotic or intact consciousness. Contrary to this, there seems to be a multiplicity of routes of how different states of consciousness can be associated. For instance, seemingly identical time perception distortions in different alterations of consciousness may have diverse underlying causes for these distortions. It is also shown that altered states do not necessarily exhibit impaired cognitive processing compared to a baseline waking state of consciousness: a case study of time perception in a hypnotic virtuoso indicates a more consistent perceptual timing under hypnosis than in a waking state. The thesis ends with a brief discussion of the most promising new perspectives for the study of alterations of consciousness.