Molecular Mechanisms and Interactions in Regulation of Photosynthetic Reactions
Nurmi, Markus (2014-10-24)
---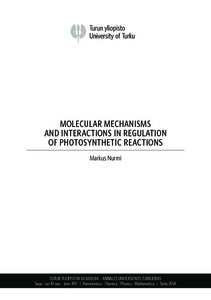 Turun yliopisto Annales Universitatis Turkuensis A I 493
24.10.2014
Julkaisun pysyvä osoite on:
http://urn.fi/URN:ISBN:978-951-29-5856-6
Kuvaus
Siirretty Doriasta
Tiivistelmä
In photosynthesis, light energy is converted to chemical energy, which is consumed for carbon assimilation in the Calvin-Benson-Bassham (CBB) cycle. Intensive research has significantly advanced the understanding of how photosynthesis can survive in the ever-changing light conditions. However, precise details concerning the dynamic regulation of photosynthetic processes have remained elusive. The aim of my thesis was to specify some molecular mechanisms and interactions behind the regulation of photosynthetic reactions under environmental fluctuations.

A genetic approach was employed, whereby Arabidopsis thaliana mutants deficient in specific photosynthetic protein components were subjected to adverse light conditions and assessed for functional deficiencies in the photosynthetic machinery. I examined three interconnected mechanisms: (i) auxiliary functions of PsbO1 and PsbO2 isoforms in the oxygen evolving complex of photosystem II (PSII), (ii) the regulatory function of PGR5 in photosynthetic electron transfer and (iii) the involvement of the Calcium Sensing Receptor CaS in photosynthetic performance.

Analysis of photosynthetic properties in psbo1 and psbo2 mutants demonstrated that PSII is sensitive to light induced damage when PsbO2, rather than PsbO1, is present in the oxygen evolving complex. PsbO1 stabilizes PSII more efficiently compared to PsbO2 under light stress. However, PsbO2 shows a higher GTPase activity compared to PsbO1, and plants may partially compensate the lack of PsbO1 by increasing the rate of the PSII repair cycle.

PGR5 proved vital in the protection of photosystem I (PSI) under fluctuating light conditions. Biophysical characterization of photosynthetic electron transfer reactions revealed that PGR5 regulates linear electron transfer by controlling proton motive force, which is crucial for the induction of the photoprotective non-photochemical quenching and the control of electron flow from PSII to PSI. I conclude that PGR5 controls linear electron transfer to protect PSI against light induced oxidative damage. I also found that PGR5 physically interacts with CaS, which is not needed for photoprotection of PSII or PSI in higher plants. Rather, transcript profiling and quantitative proteomic analysis suggested that CaS is functionally connected with the CBB cycle. This conclusion was supported by lowered amounts of specific calciumregulated CBB enzymes in cas mutant chloroplasts and by slow electron flow to PSI electron acceptors when leaves were reilluminated after an extended dark period. I propose that CaS is required for calcium regulation of the CBB cycle during periods of darkness. Moreover, CaS may also have a regulatory role in the activation of chloroplast ATPase.

Through their diverse interactions, components of the photosynthetic machinery ensure optimization of light-driven electron transport and efficient basic production, while minimizing the harm caused by light induced photodamage.