Studies in selectivity of lipases in preparation of cyanohydrins, sugar conjugates and secondary alcohols
Sundell, Riku (2014-10-24)
---
Studies in selectivity of lipases in preparation of cyanohydrins, sugar conjugates and secondary alcohols
(24.10.2014)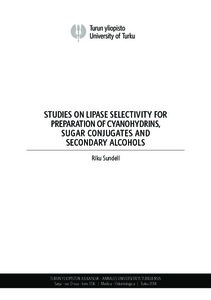 Annales Universitatis Turkuensis D 1136 Turun yliopisto
Julkaisun pysyvä osoite on:
https://urn.fi/URN:ISBN:978-951-29-5862-7
Kuvaus
Siirretty Doriasta
Tiivistelmä
Biocatalysis can be applied in organic synthetic chemistry to counter challenges posed by increased demands towards chemo-, regio- and stereoselectivity, not forgetting the need for greener chemistry. During the last 30 years, biocatalysis with the use of enzymes as chiral catalysts has become more common in chemistry laboratories and industrial processes. In this thesis, the use of lipases as versatile biocatalysts in the acylation of alcohols is examined both in the light of literature examples and four original publications.

In the first part of the work presented in this thesis lipases were utilized in two examples concerning secondary alcohols. First, the kinetic resolution of heterocyclic aromatic secondary alcohols through transesterification was thoroughly examined including the studies of competing hydrolysis and esterification reactions. In another example, lipases were utilized in the formation of a dynamic systemic resolution (DSR) process which in turn was used as a developmental tool in the optimization of the dynamic kinetic resolution (DKR) of five heterocyclic aromatic cyanohydrins in one pot for the preparation of cyanohydrin esters as single enantiomers.

In the second part of the work, the regio- and stereoselectivity of lipases was used to form sugar conjugates of glyceric and β-amino acids. The primary hydroxyl groups of methyl α-D-galacto-, -gluco- and -mannopyranosides were now acylated trough lipasecatalyzed transesterification and enantioselective lipase-catalyzed ring-opening of β- lactams, respectively.